QUARK: Everything Louder Than Everything Else
Quark formed in the autumn of 1992 when Guitarist John Halewood and drummer Paul Booth recruited Guitarist Tony Powell and Bassist Rich Hind. The first rehearsal set the pace for the next two and a half years.
Five numbers that were to become central to the set were born that night after a number of jams. Frippery, Aphrodisia and Black Whole all came out of that first rehearsal. One week and one rehearsal (with a stand in Bassist) later, the band played their first gig at The Spotted Cow, York. Regular gigs followed and a total of nine original numbers and six covers made up the somewhat flexible set list.
In preparation to enter Fibbers Battle of the Bands competition in September 1993, the band decided to tighten up the set and record a demo, and in July of that year Quark was released. The band actually made the final of Battle of the Bands - much to everyone's amazement (not least the band).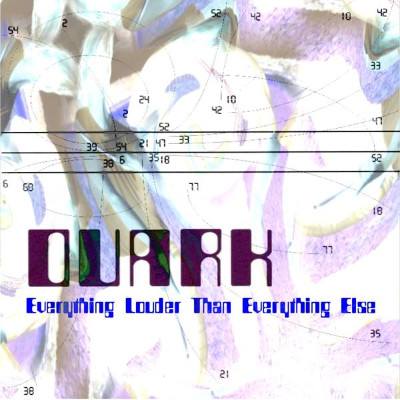 The new year began with a gig at The Spotted Cow, on December 31st/January 1st, again setting the pace for a hectic year to come. In March a live video was made at The Bonding Warehouse, York. This was immediately followed by a second tape Liquid released in early April. By now another seven original numbers had been added to the set, including The Ten, which didn't actually make it on to Liquid due to timing!
In June 1994 the band opened for Rolf Harris at the York Barbican Centre playing to over 600 people. In September Tony left York to spend a year at the guitar institute in London, during the last few rehearsals another four numbers were born out of extended jam sessions. The final gig for this line-up was December 1994 at Fibbers, York.
Then in February 1995 a clash between the drummer, the newly recruited singer (Milla) and the owners of Fibbers brought about the end of the original line-up. The following 18 months saw three drummers - Simon Woolf, Steve Shaw and Morse; The addition of a singer - Marcia Rankin and the departure of John. After another Fibbers Battle of the Bands in March 1996, the band changed its name to The Red Lemon Band which finally folded in August.
The CD is compiled from the original 4-track master tape of both the Quark and Liquid sessions, digitally remastered by Rich Hind (With Hindsight). It features all the original music plus The Ten.
QUARK - June 2002
What the critics said of Quark...
"Quark have progressed in the space of the three gigs I've been to from slightly more avant-guarde jazz to a tight group of musicians weaving a rich tapestry of spatial melody." (Ship of Fools Fanzine, July 1993)
"Quark were the only band not to hit it off with... most of the audience... Self indulgent? Yes they were - but at least they had a good time." Battle of the Bands 1993 at Fibbers, York. (Tony Myers, The Scene, October 1993. Reproduced with permission of The Evening Press, York.)
"As a relatively new band, and with not that much experience live or in the studio, they've come up with quite a dazzling debut... many pieces either fade in or fade out, and hint that Quark are possibly an amazing jamming band." Review of Liquid. (Alan Freeman, Audion Magazine, Autumn 1994 Ultima Thule, 1 Conduit Street, Leicester, LE2 0JN, England.)
"Chiming guitars... velvet voiced vocalist Marcia... Musically acomplished... It was Quark's final song about penguins, possibly the coolest creatures on earth whcih left the lasting impression." Battle of the Bands 1996 at Fibbers, York. (Barry Neild, The Evening Press, February 1996. Reproduced with permission of The Evening Press, York.)